02/06/2022 – Ian Merkel : "Terms of exchange: Brazilian intellectuals and the French social sciences"
Cher(e) membre de la société des américanistes,
Nous avons le plaisir de vous convier à la conférence qui se tiendra le jeudi 2 juin 2022, de 18 à 20h dans la salle de cinéma du musée du Quai Branly.
Ian Merkel
(Alexander von Humboldt Fellow, Department of History
Freie Universität Berlin, lauréat du prix d'aide à la publication 2021)
The terms of exchange: Brazilian intellectuals and the French social sciences
Les idées les plus iconiques des sciences sociales françaises auraient-elles pu se développer sans l'influence des intellectuels brésiliens ? Alors que toute historiographie des sciences sociales brésiliennes reconnaît l'influence des universitaires français, Ian Merkel soutient que l'inverse est également vrai : les sciences sociales « françaises » ont été profondément marquées par les penseurs brésiliens, notamment ceux de l'Université de São Paulo. En utilisant le concept de cluster, Merkel retrace les réseaux qui unissaient Claude Lévi-Strauss, Fernand Braudel, Roger Bastide et Pierre Monbeig à l'USP, ainsi que leurs échanges avec des chercheurs brésiliens tels que Mário de Andrade, Gilberto Freyre, Caio Prado. Jr. et Florestan Fernandes.
Dans cet essai de biographie intellectuelle des sciences sociales brésiliennes et françaises, l'auteur établit des connexions qui éclairent d'un jour nouveau l'émergence de l'école des Annales, du structuralisme et de la démocratie raciale, tout en interrogeant les conditions de la construction du savoir à travers le travail de terrain et le dialogue scientifique. À une époque de remise en question des canons disciplinaires, cette conférence propose un recadrage de l'histoire de la pensée scientifique sociale moderne.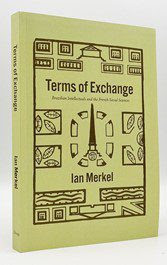 Prière de vous présenter directement à l'entrée du musée (37 quai Branly), sans passer par les caisses. Sauf changements, le pass sanitaire vous sera demandé à l'entrée du Musée. Le plan Vigipirate impose aux agents de sécurité du musée à ne pas autoriser l'introduction de valises (même cabines), sacs de voyage, sacs à dos, sacs de sport…